Unidrim is a leading Digital Marketing and Web Development services provider based in Bangalore that has crowded its presence in a wide array of services. We have another team working in Bhubaneswar, Odisha. We are totally driven to client satisfaction mentality and aims to pose only the best usage and guaranteed solutions. It has setup main motto that is entitled with "One Dream & One Goal" and purposefully drives to meet that precept. Our passion is business efficiency enhancement for clients through smart application of automation methods. Having a team of multi talented specialists not only show our outcomes through winning ambition but also through result orientation suite to readily deliver quick minute solutions at any effects. Analytical minds that can understand the nuances of customer's business, driven management, the methodical project managers and designers with a focus for delivery and quality and the innovators that transform the way of look. We show a range of Digital Marketing and Web Development services in Bangalore and designing services working with advanced touch to technology and tooling techniques. The main frame is focused to convince the clientele meet specific choices under the market dominion level and go in-line with top trends business frontiers.As a fresh start up our mode of process work does comply with recent facets and precepts of organization wellness thereby leading to best returns in business mark-ups and edges.
At Unidrim, we offer bespoke web development solutions using high-end web development platforms like wordpress, drupal, magento, php and many more. Our custom-fit web development solutions offers productive solutions to small and medium scales businesses and help them grow at in the dynamic and competitive marketing plethora.
Unidrim is a leading mobile app development company in India offering next-generation mobile, web, and cloud app development for iOS, Android, Blackberry and Windows devices. Running by a team of high-standing professionals, Unidrim can help you develop exceptional grade mobile apps throughout the strategy implementation, development, and deployment process.
Here at Unidrim, we don't offer a 'one-size-fits-all' solution. We know and understand that each business is different and so are their customers. Therefore, we carefully put your eggs in many baskets and market them in great precision.
Pay Per Click (PPC) is an online marketing strategy where you can display your ads on various platforms. It is one of the most preferred marketing strategies because it is result-efficient and cheaper as compared to other forms of paid marketing. You will only have to pay when someone clicks your ads and not for the display.
SEO Audit Report For FREE !!
Provide us with the following information and we'll email you the SEO audit report of your website
To simply maintain your rankings or rank higher, you must modify your…
Email, online networking, SEO, and content creation are included in digital marketing…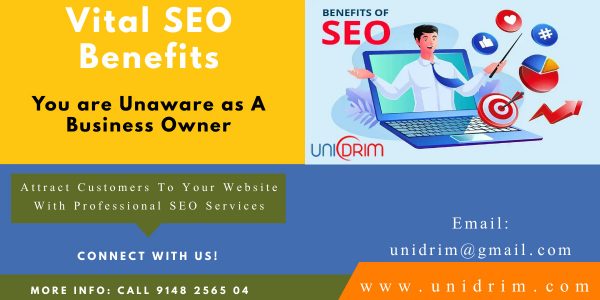 One of the most fruitful actions that you can take for your…
I took web development service from Unidrim. They are providing services quickly. Always available for support. I am satisfied with work.
Avani Patel
I have been working with Unidrim team the past a month and so, and they have been really amazing to work with. They answered every question I asked and even I have saw some result with my analytics. Can't wait to see full result of their service. I will update in few months cheers!!
David W
Unidrim Team is very responsive.Great Team to work with, really attentive and react to request immediately. Excellent work and I'm really pleased with the results.
Eduklas
It has been a great experience working with Unidrim, and TVRLS looks forward to a continued association with Unidrim.
Perfect Professional
Want to see your dream comes true ?
Reach us to work with a results-driven team